Media Library:
Your Centralized Image Hub
Centralized storage for all your restaurant's pictures
Easy access from the Spillover ENGAGE dashboard
Stocked library of useful images
AI-driven image generator for creative visuals
My Media section for your own pictures
Favorites section for easy access to frequently used images
Click to

Learn More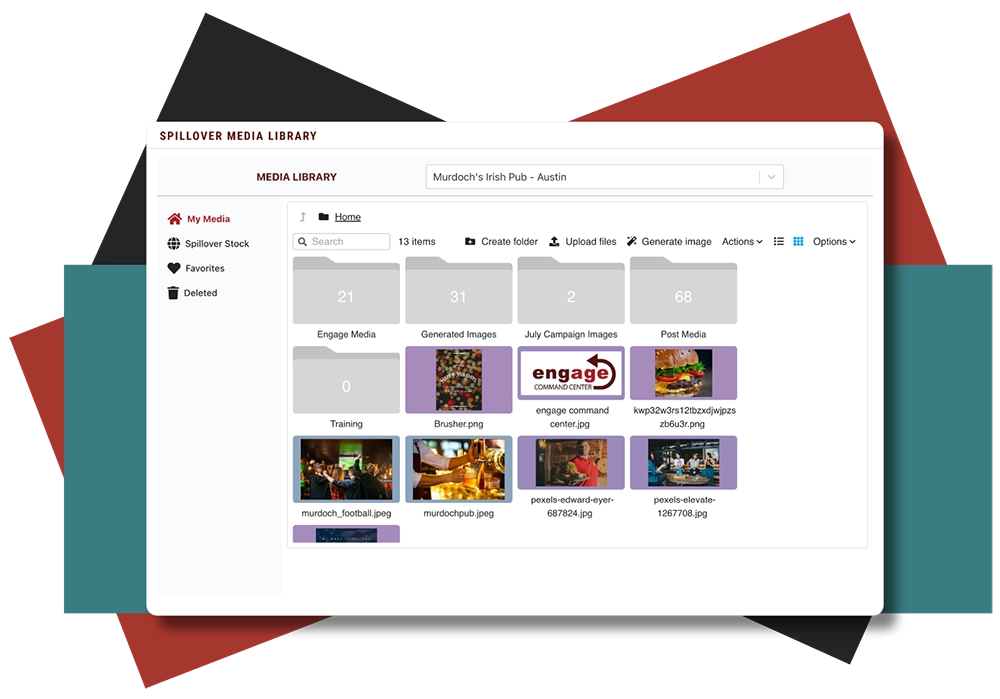 To have a strong internet marketing presence means communicating with your customers through many different mediums. In most cases, a picture can really save a thousand words and generating and managing a library of them can be a challenge for most restaurant owners.
Spillover is here to help with our Media Library system where all your pictures are stored in one central location that is easily accessed from the Spillover ENGAGE dashboard. What's more, we give all of our customers access to a stocked library of useful images and even have an AI-driven "image generator" that's really pretty cool – see more details below on that.
Library Features
My Media
A central location you can load all those great pictures you already have of customers enjoying your restaurant and having fun. If you organize a photo shoot with Spillover, this is where you will find all these photos for easy access and use across multiple media communications.

Spillover Stock
Don't have your own pictures? No need to fret – our comprehensive collection of pre-loaded images has you covered for any occasion. We offer these images for you to use right away, conveniently organized by themes to make communication about various occasions a breeze.

Favorites
Have certain ones you use regularly? Well, they're for the favorites bucket and easy finding later.

AI Picture Generator
Have a great idea but no picture to back it up? Wouldn't it be great if you could ask the magic picture genie to create one for you? Well, now you can. Type in what you are looking for and wait for our AI to generate an image that matches your requirements. Be as crazy as you'd like – you want to talk about "a clipart of a penguin riding a skateboard" – that's not a problem, and hey presto, here we go…

If you don't like the first one, that's okay too. Ask our friendly neighborhood AI system to have another go – then just save the one you want and you are ready to use your ENGAGE dashboard to generate multiple posts across your media connections. 15 free generations per month and then a nominal fee (to feed the AI's kids you know) gets you access to hundreds or thousands of queries.
Check out some of our work!